Instacart
Instacart offers in-app support on a global scale with UJET.
+18%
SLA Improvement
Using in-app voice
+23%
SLA Improvement
Using in-app chat
5.6%
Repeat Call Reduction
Using in-app voice
4.6%
Repeat Contact Reduction
Using in-app chat
Company
Everyone has to shop for groceries. That might be a daily trip after work or part of your weekend errands; going to the grocery store means dealing with crowds, waiting in lines, and likely forgetting something from your list. In 2018, the average U.S. household made 1.6 grocery shopping trips per week.
Instacart, founded in 2012, took the inconvenience of grocery shopping and completely flipped it on its head. Now shopping is easier, more efficient, and effortless, all due to the convenience of the Instacart app. Instead of spending valuable time at a store, consumers can order groceries wherever they are and get back time for things that matter like family, friends, and more.
As a part of the on-demand industry, Instacart is giving people the opportunity to supplement their income. Instacart consumers order groceries, schedule deliveries, and communicate with Shoppers all through its mobile app. The company utilizes part-time employees and contractors to fulfill all of those orders.
Instacart has contributed to on-demand services popularity. During its seven-year history, Instacart has grown into a grocery delivery powerhouse, servicing over 4,000 cities in all 50 U.S. states. Instacart is accessible to over 80% of all households in the U.S. and over 70% of households in Canada. Repeated successes lead to a $7 billion valuation, with its latest round of funding in November 2018.
Order with Instacart and over 100,000 Shoppers help deliver these orders on-time. Shoppers are an essential part of Instacart's business. Receiving orders, picking up products, and delivering within specific time windows requires both streamlined processes and intelligent planning. Any disruption can cause delays for customers. Instacart realized that Shoppers required a reliable customer support experience.
Challenges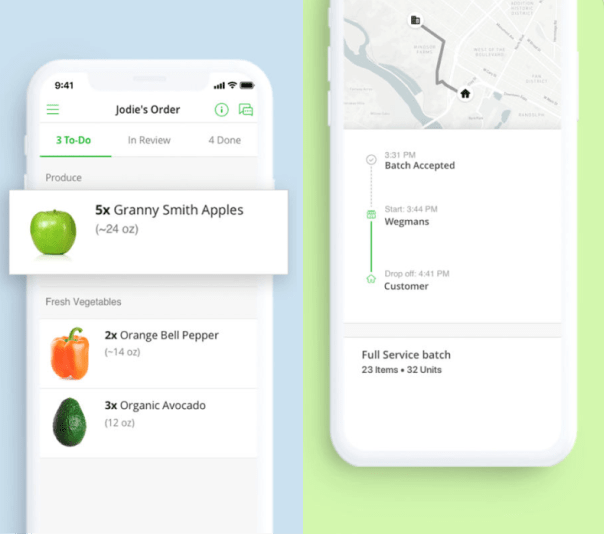 Instacart must offer reliable customer support for its growing number of both Shoppers and end-users. To do so, Instacart employs more than 1,000 support agents supervised by over a hundred managers across multiple sites around the world.
Instacart recognized that in order to realize its goal of making grocery shopping effortless, the Instacart Shopper app would need to provide a seamless experience so Shoppers could receive orders, browse shopping lists, and enable them to contact customer support in-app.
With a large Shopper organization, Instacart needed to provide Shoppers with Instacart's brand message in the same way the consumer app did. Shoppers are part of Instacart's supply chain and presenting the brand image through the app would promote inclusivity. Instacart realized that as its number of Shoppers continued to grow, they need to provide a support experience that was reliable, consistent across multiple channels, and that could scale to match their pace of growth.
Instacart knew they needed a partner who was focused on the same key areas: mobile, modern customer support technology, and looking at support as an extension of your brand.
"In a short period of time, we've been able to create a shopper experience that is both unique and personal. UJET shares our commitment to ensuring that support issues are being resolved with minimal touchpoints and in record time."
Kevin Henrikson
Vice President of Engineering
Instacart
Solution
Cloud-native, mobile-focused, and multichannel customer support is at UJET's core. Instacart understood UJET's commitment to mobile customer support and saw an opportunity to leverage the in-app support voice and chat capabilities of the UJET customer support platform.
UJET's mobile SDK would integrate with the Instacart Shopper app without altering the company's brand or user experience, creating natural, and organic in-app adoption. Shoppers would be able to contact Instacart Support in the app and have a seamless experience from order fulfillment to any necessary support communications.
Instead of relying on a general IVR menu, Instacart would use customer data reports, supplied by the UJET platform, to create user segmentation. Segmenting by urgency and routing IVR calls to dedicated queues quickly would decrease total call resolution times and increase Shopper satisfaction by solving high priority issues in less time.
Support agents would be able to aggregate Shopper information before connecting to the call through its CRM integration. This would help reduce resolution times because important Shopper information would be available before connecting calls.
Instacart recognized that its customer data could improve its support strategy. Leveraging this data to create reports would uncover previously unseen trends. And with customized real-time reports from the UJET platform, managers would be able to react to support request variables with better solutions.
With many support requests, customer issues, and agent interactions, Instacart had to create workforce management (WFM) strategies for efficient operations. It couldn't find success by operating on a case-by-case basis, but by using data to help its customer support strategy.
Both companies saw huge potential in a partnership. Instacart's large scale customer support operations would need features as different challenges were discovered. It required a partner that could iterate quickly and help build the foundations of a true mobile-focused support organization. Rather than wait for a company to build a needed feature, it wanted to actively discuss feature viability with a knowledgeable partner.
The UJET platform was designed for multichannel support with a mobile focus. Integrating the SDK into the Shopper app would help improve the SDK rapidly with Shoppers using it daily. UJET could use that usage information to optimize the mobile SDK.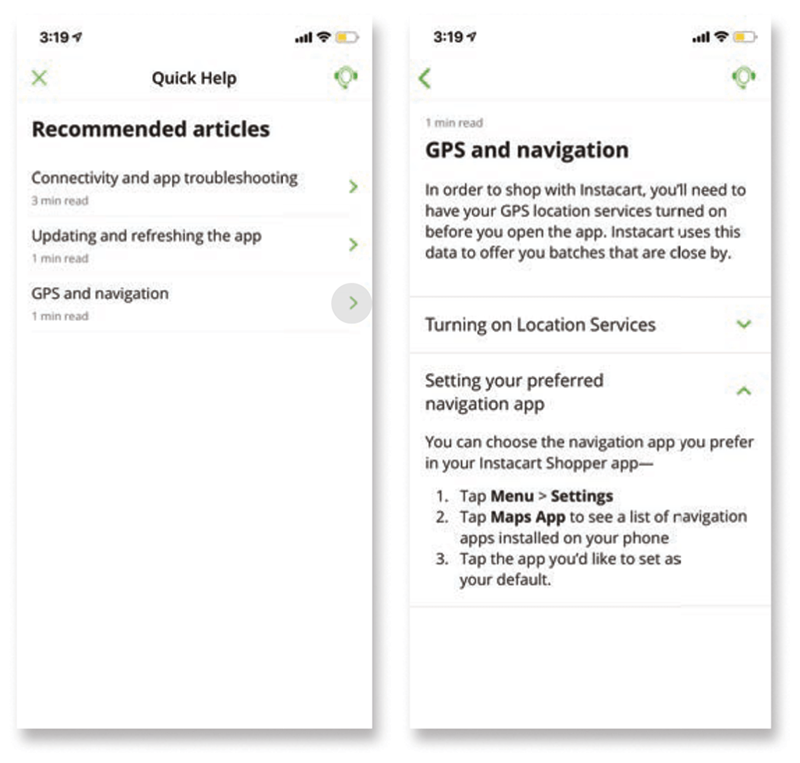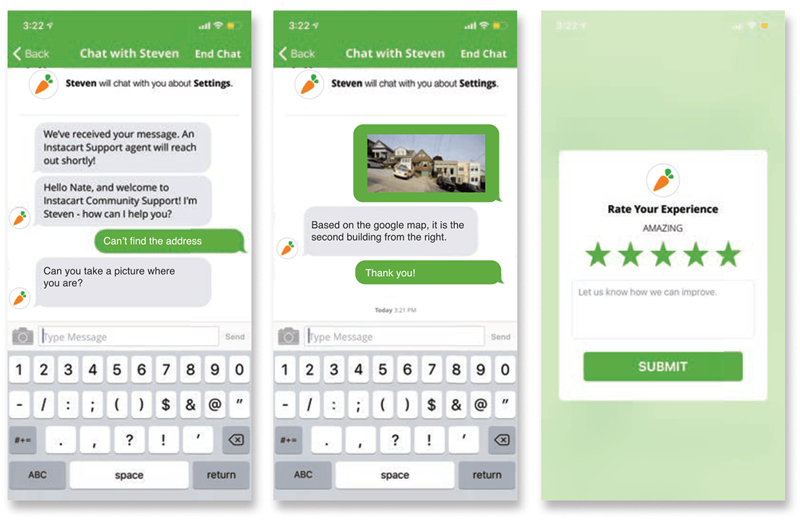 Results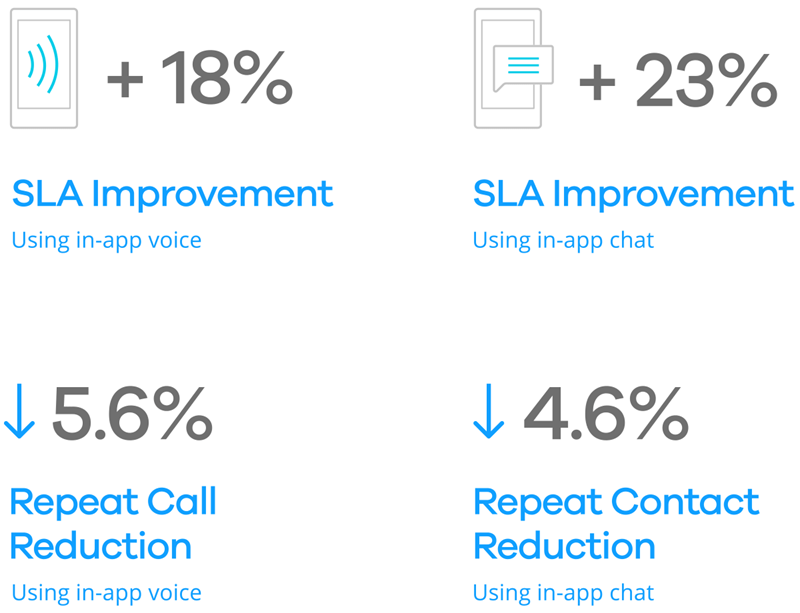 Through its partnership and deployment of the UJET platform, Instacart has achieved substantial improvements. The Instacart Shopper app, with the UJET mobile SDK integration, was able to intelligently distribute its support communications through its mobile app.
By using UJET, agents were able to reduce Shopper repeat customer contact, multiple contact within 48 hours, by 5.6% for in-app voice and by 4.6% for in-app chat. Instacart was able to maintain its high CSAT score without compromising the customer support experience, even with the increase of support traffic.
Reporting with the UJET platform also improved support efficiency. With Zendesk and Looker integrations, UJET is able to produce various reports that assist in optimizing each of Instacart's channels. And with UJET offering all this information in one tool rather than multiple apps and platforms, agents and supervisors can reference important data in real-time, reduce resolution times, and improve customer satisfaction.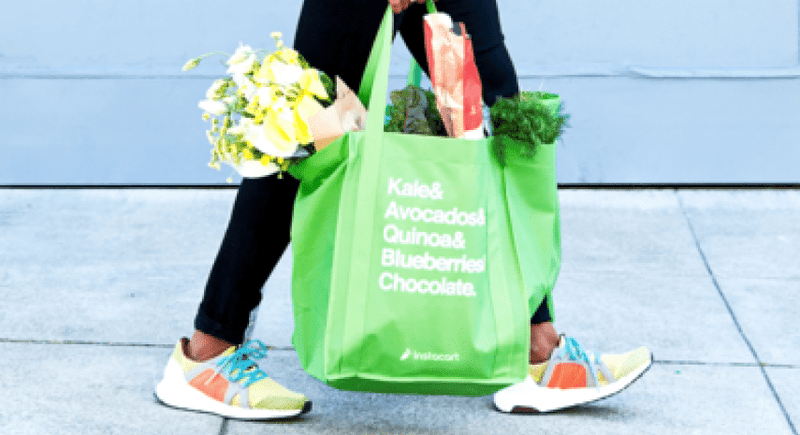 The partnership has helped both companies continuously iterate on this mobile-focused customer support blueprint quickly. Instacart is one of the most popular on-demand companies identifying new and innovative ways to connect with its customers and shoppers. UJET understands the importance support plays in growing customer satisfaction.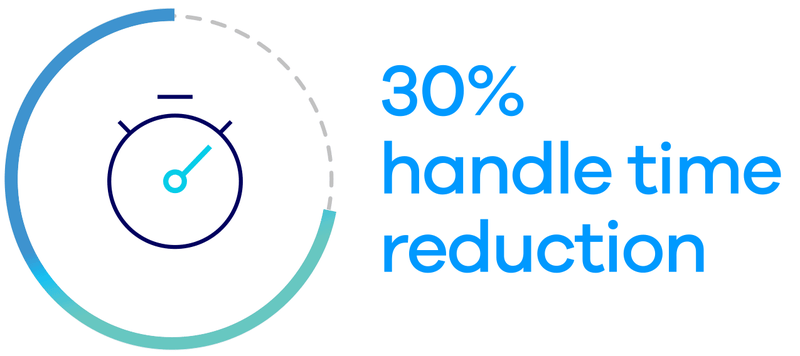 Through its partnership with UJET, Instacart has been able to deliver high-quality Shopper experiences without compromising on support.
Conclusion
Instacart had a goal to offer its Shoppers an entire shopping and support experience on mobile. Through its partnership with UJET, it was able to deploy voice and chat support in the Shopper app. Shoppers complete consumer orders and contact support without friction, all through Instacart's branded Shopper app.
Its 100,000+ Shoppers are also "customers," who spend their time using the app to complete millions of orders daily, and without a modern and intelligent shopper support experience, the entire workflow would experience delays. These delays would also affect the millions of Instacart's end-customers.
Mobile is becoming the main platform for commerce. Smartphones offer instant access to consumers' favorite stores and services. Companies must offer a high-quality customer support because consumers expect a unified experience regardless if they're buying something or reaching out to customer support.
Instacart understands that mobile is the consumer platform of choice and that a frustrating customer support experience leads to customer abandonment. Offering a seamless, brand-focused customer support experience was a necessity and by partnering with UJET, Instacart was able to offer the best mobile customer support available.
Take your customer support into the digital age with UJET. Let us show you how!
Contact Sales