Provide Thoughtful Service to Each Patient and Member
Overcome the limitations of legacy infrastructure, improve patient care, and optimize your HIPAA-compliant contact center with UJET's modern solution for healthcare contact centers. UJET's contact center technology reduces complexity while providing powerful and flexible service options to your patients through intelligent, fluid, contextual conversations across all your channels. Whether you're running a hospital call center, insurance contact center, long-term care center, senior care facility, or other healthcare contact center, UJET enables you to serve your patients more personally and efficiently.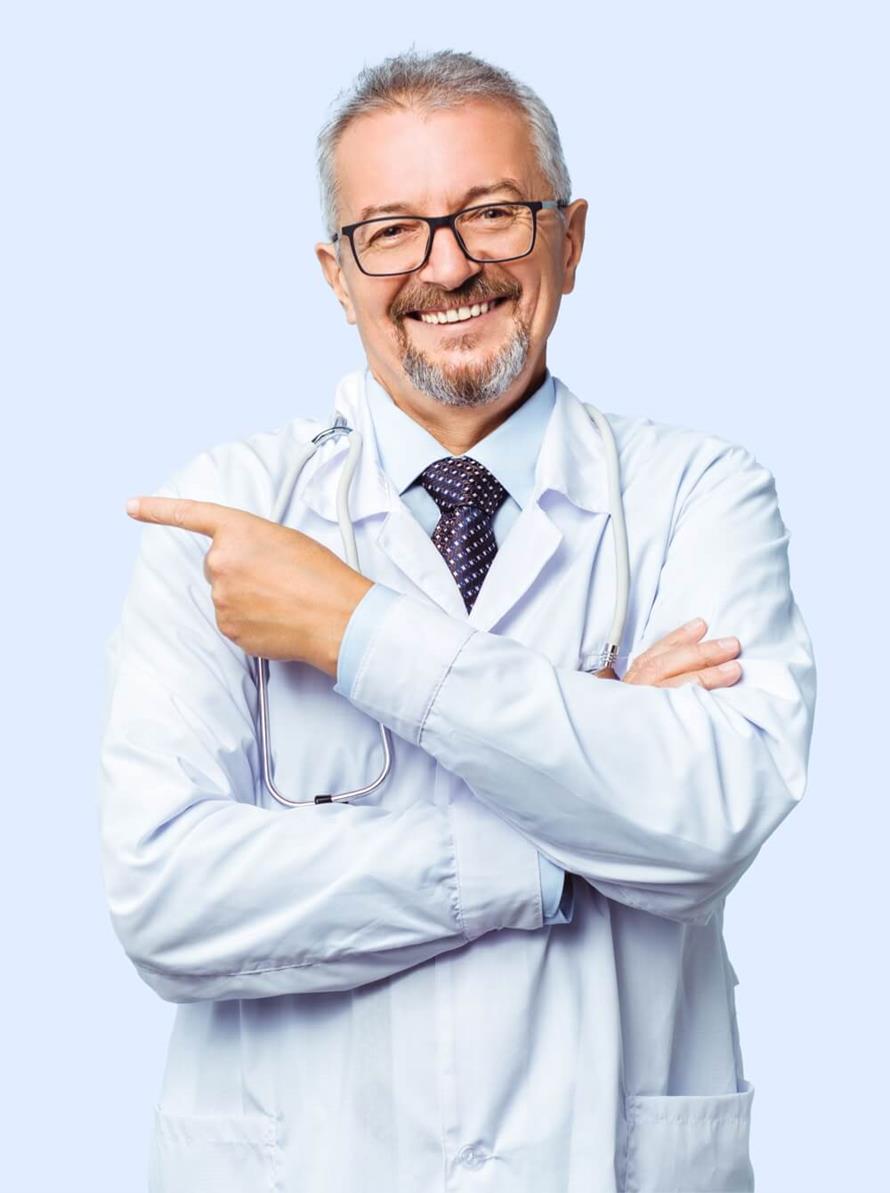 Connect with Patients Across Multiple Channels
Talk with clients and patients on the channel they choose — whether it's via in-app chat, phone, messaging, video, or SMS. As the conversation evolves, UJET's unique channel-blending features let agents choose the right channel for their needs, such as requesting pictures of prescriptions or sending directions to the closest medical clinic while still on the call or chat. Whichever way customers contact you, they'll get the same consistent experience.
Learn more about UJET's digital channels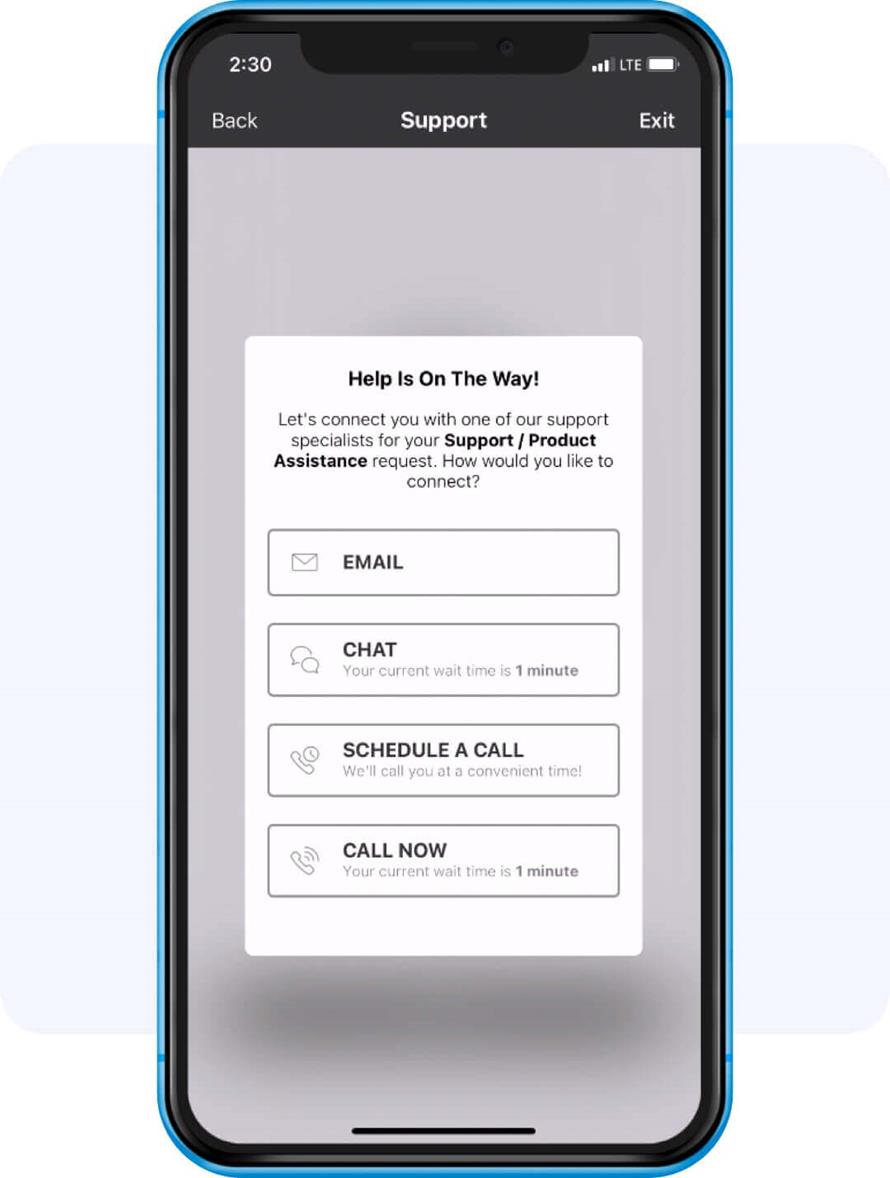 Help Patients Feel Cared For
Healthcare is personal. With the right information at their fingertips, agents can provide the nuanced customer experience that these important conversations require and deserve. UJET's one-of-a-kind real-time data exchange for CRM empowers agents with vital patient journey data, including hospital, location, patient information, care team, and other key details while maintaining data privacy.
Using SmartActions, agents can easily verify patients using a fingerprint or Face ID, accept secure payments and insurance info, request photos and videos mid-call, and verify important details like name spellings and addresses. And with instant access to the historical records, your agents have everything they need to know about the patient or member right in front of them at all times.
Learn more about SmartActions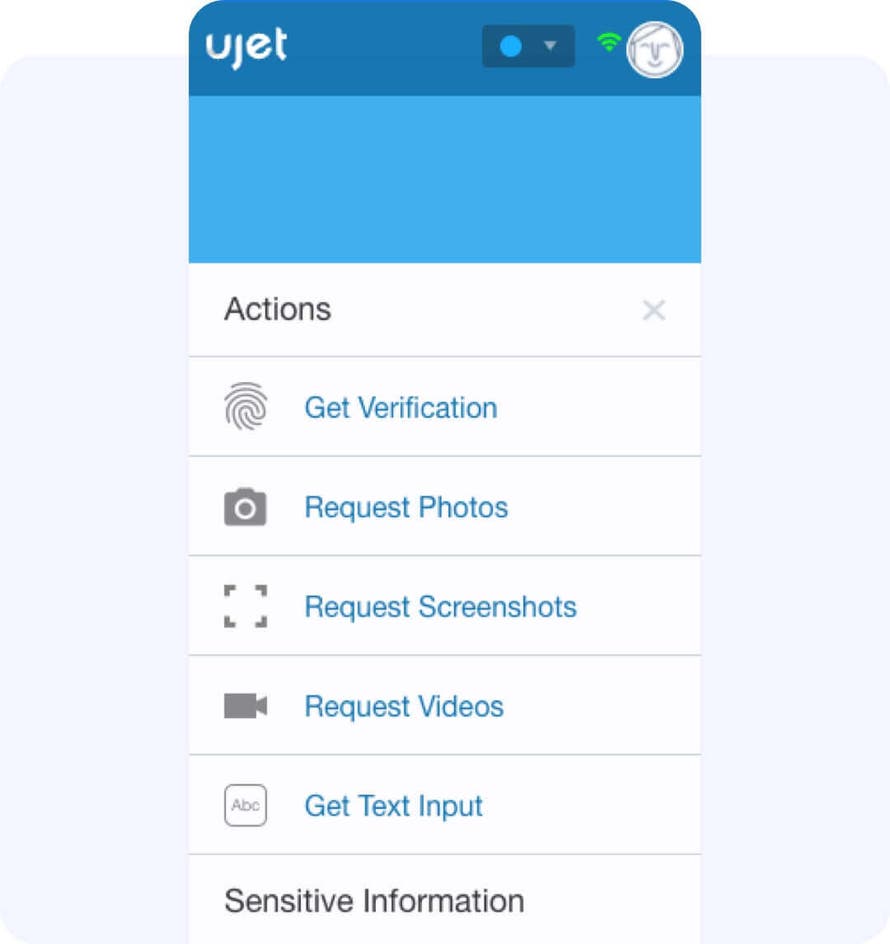 Optimize Your Operations
Time is of the essence when your patient's healthcare is at stake. That's why UJET is packed with features to help agents, healthcare providers, and patients get the answers they need quickly. Intelligent routing sends incoming calls and messages to the right department or agent based on a combination of historical data with real-time contextual data and predicted intent. Automated ticket management tools and shortcuts let agents focus on caring and resolving, not manually shuffling around tickets. And with UJET's Virtual Agent, you can collect insurance information, help patients reschedule, and screen for symptoms, all before connecting with a human agent.
Learn more about UJET's Virtual Agent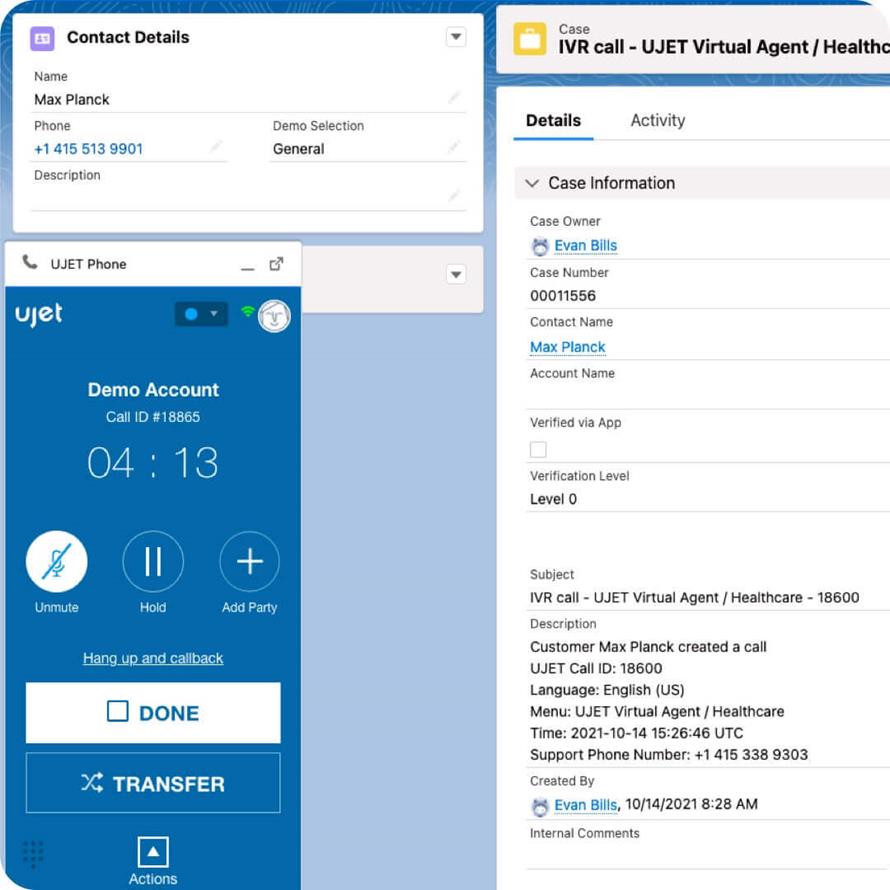 Go Beyond HIPAA-Compliance with Biometric Security
Traditional medical call centers haven't been able to keep up with modern data protection laws. Give your patients and members peace of mind with the industry's premier security-focused CCaaS platform. Use biometric authentication to verify each caller's identity using a fingerprint or Face ID instead of relying on passwords and credentials that can be easily compromised. UJET offers the only real-time data exchange for the CRM, eliminating storage of sensitive customer data in the contact center. All customer data and PII is stored natively in the CRM or your private data repository to reduce security risks.
Learn more about UJET's security and privacy certifications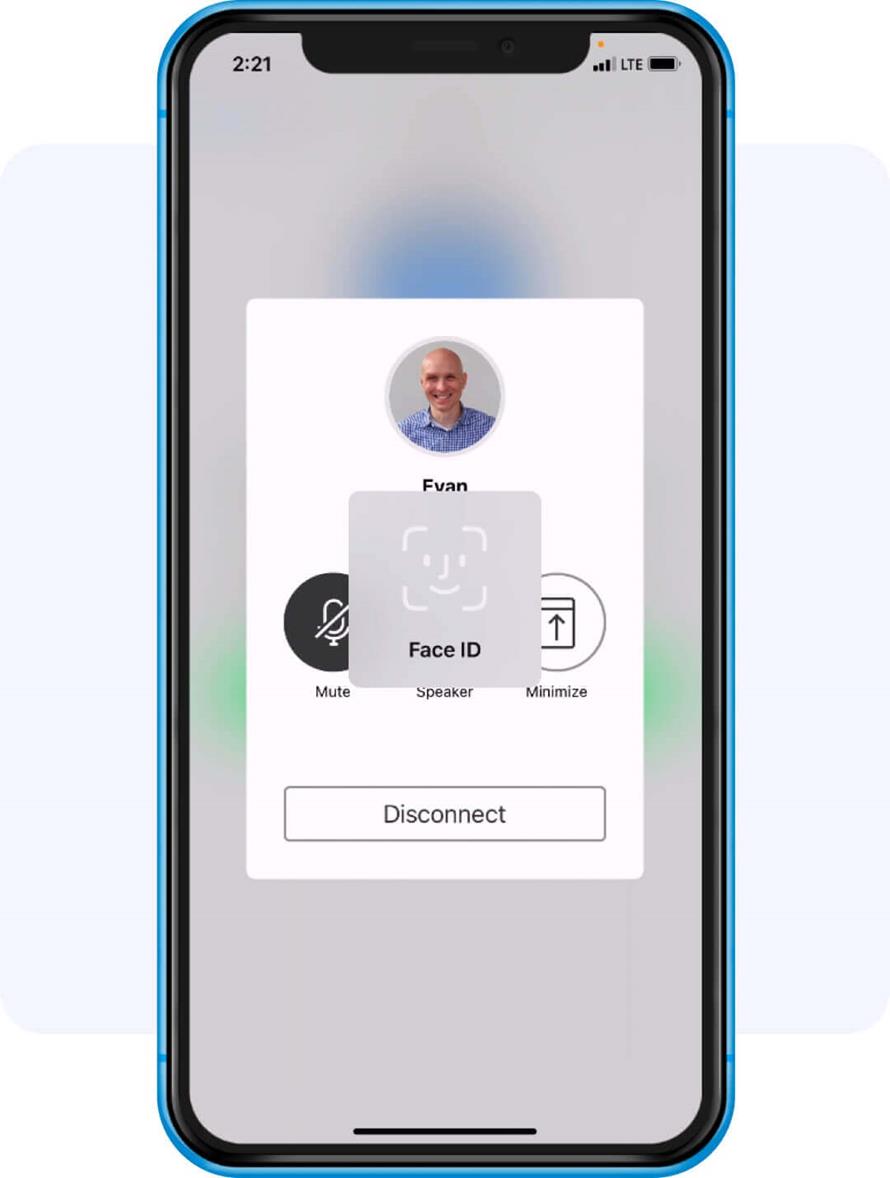 Say Goodbye to Legacy Systems - Hello to CCaaS 3.0
Designed for the way modern consumers communicate, UJET moves beyond omnichannel solutions to help the healthcare industry provide ultra-secure, personalized, efficient patient care. Seamlessly communicate across multiple channels using voice, text, and other input methods to collect information and resolve issues.
Request a demo today to see how UJET's contact center solutions for the healthcare industry can optimize your operations and improve patient satisfaction.